Travelwest Smartcards
The West of England authorities have teamed up with local bus operators to introduce smartcard technology designed to make your travel that much easier. Your Travelwest card can be used to store travel tickets, or Pay-As-You-Go credit, or both.
Pay-as-you-go credit allows you to buy tickets conveniently without the need for a bank card.
If you already have an account please sign in using the fields on the left of this page.
Need a card? Click on the 'Sign up for Smartcard'  button to get one.
How to collect your tickets
Tickets purchased online can be collected from:
a Metrobus iPoint, two hours after purchase, or
a Park & Ride site, 6am the day after purchase (orders must be made by 11pm). 
 Tickets can be collected at iPoints by inserting your card into the reader on the side of the unit. A message on the screen will then confirm that your tickets have been collected.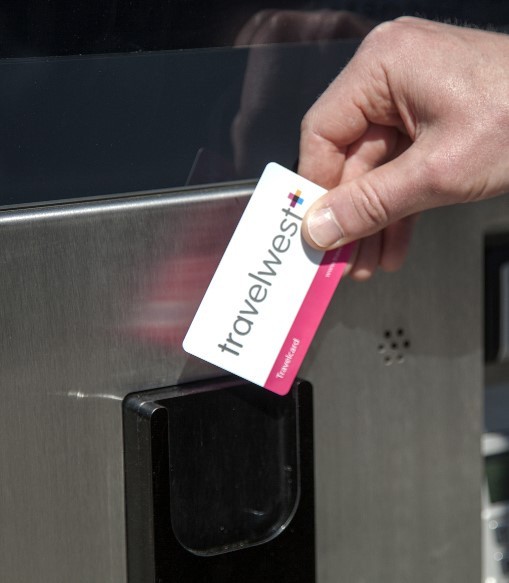 Why Smartcard?
Convenience – buy your ticket before you travel, with the ability to buy multiple days/journeys in one go, and with Pay-As-You-Go there is no need to carry cash
Discounts – get access to special discounted tickets when using the Pay-As-You-Go ePurse and when buying multi-journey tickets in advance
Cashless – top up your Pay-As-You-Go by signing up on the sQuid website, and use it to buy tickets on the bus
Robust – plastic cards are more durable than paper tickets
Security – if lost or stolen, registered cards can be blocked and then replaced
Protect your balance – if lost or stolen, your Pay-As-You-Go credit and tickets purchased online are protected and remaining credit will be transferred to your replacement card
Service improvements – better travel information  will help us plan future services